Emergency Medical Service
Mission Statement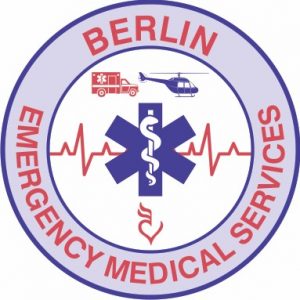 As patient care providers for the City of Berlin Emergency Medical Services, we seek to serve all members of our communities by providing a safe response to 911 medical emergencies with timely, professional care of the sick and injured.  We also work in collaboration with our colleagues in healthcare to provide safe and professional interfacility medical transport.
We seek to fulfill our mission by emphasizing quality training, patient advocacy, excellence in pre-hospital care, and community education. Success of our mission is dependent on committed leadership and membership, continuous education and improvement, and up-to-date technology and equipment.
We commit our knowledge, skills, time, and resources to provide professional emergency medical services for our communities to meet the needs and expectations of those who require our assistance.
About Us:
Berlin EMS consists of EMTs, AEMTs, and Paramedics. The City of Berlin EMS has three separate stations located in Berlin, Green Lake, and Princeton, that provide Advanced Level Paramedic care to Green Lake County and portions of Waushara, and Winnebago counties.  Berlin EMS has responded to an average of 1400-1600 calls annually.
Contact Info:
Due to schedules and nature of our business, the office is not necessarily staffed daily.  However, you can call and leave a message at 920-361-5457, and someone will return your call as soon as possible. *Please direct billing questions or concerns to Cvikota billing at 1-877-642-9543.*
Current EMS Staff:
Evan Vandenlangenberg – EMS Director; evandenlangenberg@cityofberlin.net
Josh Schmidt – Assistant Director; jschmidt@cityofberlin.net
Damian Moreland – Supervisor; dmoreland@cityofberlin.net
Megan Myer– Paramedic; mmyer@cityofberlin.net
Bethany Trantor – Paramedic; btrantor@cityofberlin.net
Jerry Gellerman – Paramedic; jgellerman@cityofberlin.net
If you need emergency medical services now, CALL 911.  Our office is located in City Hall on the 3rd Floor at 108 N. Capron Street.  Our mailing address is PO Box 272 Berlin, WI  54923.  Office phone is 920-361-5457.  If you are calling during non-office hours (after 4pm weekdays) and need assistance scheduling a non-emergent medical transfer, please call the non-emergency number at the Green Lake County Sheriff's Department at: (920) 294-4000. Please direct billing questions or concerns to Cvikota billing at 1-877-642-9543.
CPR Training:
Berlin EMS offers a variety of CPR classes, as well as First Aid and Bloodborne Pathogen classes. For more information regarding this training or to schedule a class, contact our training manager Damian Moreland (contact info listed above).
Employment:
Full Time EMT/AEMT positions open! Due to demand, Berlin EMS is accepting applications for 6 newly created EMT/AEMT positions!
The City of Berlin is always looking for volunteer EMTs, AEMTs, Paramedics, and RNs.  Please contact the office at 920-361-5457 or follow the link below and email to: DMoreland@cityofberlin.net or pick one up at City Hall.