Building Inspection and Zoning Administation
Overview
The City of Berlin Zoning Office provides information and guidance regarding local zoning and land use laws, regulations, and policies for development in the City of Berlin. The Zoning Office in conjunction with the Planning Commission oversees the site plan review process for all multifamily, commercial and industrial projects in the city,  rezonings, annexations, certified survey maps, plats, code amendments, and other discretionary approvals. The Board of Appeals reviews and processes requests for variances and conditional use permits. Zoning staff provides technical support to the Board of Appeals and the Planning Commission.
PLANNING AND DEVELOPMENT DEPARTMENT
108 N. Capron St. (second floor)
(P.O. Box 272)
Berlin, WI 54923
Zoning Administrator: Tim Ludolph
Office Hours: Monday – Friday 7:30 am – 4:30 pm
Phone: 920-361-5156
tludolph@cityofberlin.wi.gov
Building Inspector, John Lust
Office Hours: Monday & Wednesday  8:30 am – 10:30 am
Phone: 920-210-6351
jlust@kunkelengineering.com
Fax: 920-361-5405
Inspection Applications & Forms
Submit application at least one week in advance of starting the project (fees are nonrefundable). Review time is approximately  one week once a completed application and supplemental items are submitted.
Fee Schedule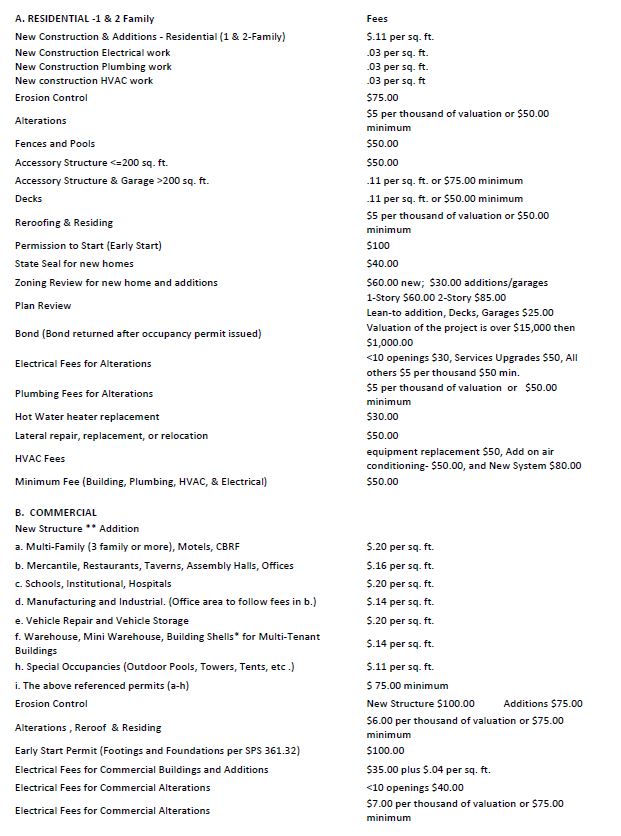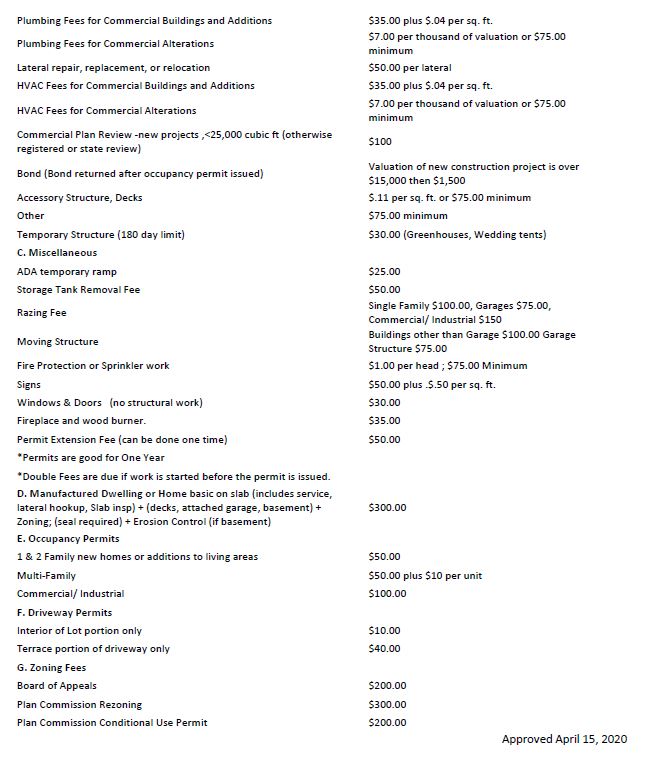 When is a permit and inspection needed?
Inspections for the following must be made BEFORE proceeding to the next phase:
Footings (forms in place, prior to pouring concrete).
Foundation (drain title and stone in place, insulation if required, prior to back fill).
Underfloor plumbing (piping installed and on test).
Basement floor ( vapor barrier, drain tile, and sump crock in place prior to pouring concrete).
Rough constriction, electrical, plumbing, and HVAC (work completed prior insulation).
Electrical services.
Insulation (insulation an vapor barrier installed, before drywall).
Final inspection (all phases and trades completed, prior to occupancy).